You know where that Richmond/Petersburg VA are? Near the I-95 and I-895 (Toll $2.00) this area?
Okay, Here is the story that's true.
SACRED SITES!
PARANORMAL ACTIVITY!!
Why an activity? Okay. Say, that the toll station workers at nighty shifts HEARD the backyard sound like it's chanting, and talking of Native American Indians. Yes, it's true.
The Vietnam Veterans Memorial Bridge, when it opened, was the focus of several claims of paranormal activity that became a drain on the patience of local law enforcement. Documented claims by toll plaza employees, state police and drivers made local headlines and television news reports, with claims of Indian ghosts and ghostly, speed addicted drivers among the most common tales told. (http://en.wikipedia.org/wiki/Virginia_State_Route_895)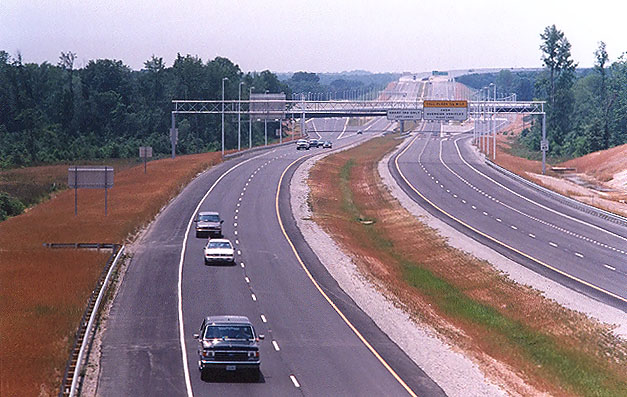 You can see this road that on left side <----- that Native American Indians gravesites.
The trucker and the tollbooth saw few ghost Indians ran over the road with sound of exciting, with chanting... Sound like they thought it's kinda of battlefield.
That place that's sacred sites... that's what the people say so, they tried to warning to not development the road. They are at fault not for listen. That's why they are appeared the worse!
I had a chance to stop on this side, but they will report the police if I stop this side and take photos. I can't, so I know where I can find the rural road and take some photos someday near this road.
Come to Richmond Virginia someday!!
Richmond and Petersburg are hunated too! Because of Civil War and Colonial, too!